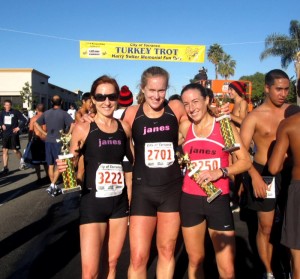 A few of the Janes broke up the quiet Thanksgiving morning routine by racing at a few local Turkey Trots in the area. Kelle, Cambria and Kirsten headed over to the low-key Torrance Turkey Trot where the Janes dominated going one-two-three over the three mile course with Cambria winning in a time of 17:13, Kirsten with a time of 17:42 and Kelle at 18:04 having to outkick an El Camino girl fresh off her state championships.
In another city, Ally ran in the competitive Dana Point Turkey 5k Trot running 5th in a time of 18:20.
The rest of the day the Janes spent eating turkey and pumpkin pie with their families! Happy Thanksgiving from the Janes!