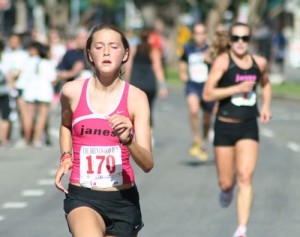 Our own Baby Jane, Cami Chapus, won the Division 4 California State Meet Championships this past Saturday at Woodward Park. Cami ran 17:45 over the rolling 5k course beating out Kat Delaney from Jserra High School who ran 17:48. For her efforts, Cami received an invitation to the Nike Cross Nationals in Portland next Saturday on December 4th.
We are so proud of Cami!
For complete State results, click here.
For an interview of Cami conducted by Jane Kirsten for DyeStat ESPN RISE, click here.