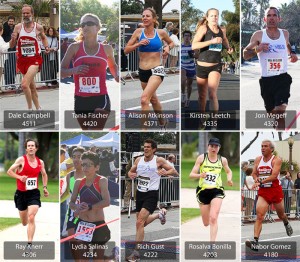 The Janes finish off the Southern California USATF Grand Prix Road Racing Series in second place behind Club Ed Running team. Club Ed Running scored a total of 21,350 points in front of The Janes' point total of 21,002. The Janes scored 13 runners to Club Ed's 24 runners and many of them were men so not a bad showing on the part of the Janes. (In fact, there was not one other team in the field of twelve that had only women scoring on their teams. All the others were either all men's teams or a mix of men and women.)
Our brave leader, Tania Fischer with 4,420 points, was the individual leader holding off second place Alison Atkinson (Club Ed Running, 4,371 points) as well as a Natalie Higley, who was running well early in the series before she got injured. Kirsten Leetch had a strong finish at the final race of the series, the Thanksgiving Day Dana Point 10k by running 35:50, to go from fifth place to third overall with 4,335 points. Tania, Alison and Kirsten were 2nd, 3rd and 4th in the overall series scoring with men and women combined.
The 2011 Southern California Road Running Grand Prix Series will kick off at the Redondo Beach Super Bowl Sunday 5k on February 6th. Awards for the 2010 Series will be presented there as well.
For complete results and more details on the race series, click here.