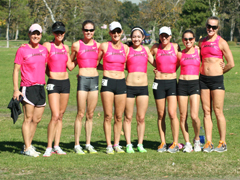 The Janes will bring a team to the 20th Annual Brea 8k on Sunday, February 27th at 8am. The Brea 8k is part of the Southern California USATF Grand Prix Road Racing series.
Last year, Tania Fischer was second to Nathalie Higley, Adrienne was 8th and Kirsten 9th and Jenna was 28th.
Not only are the Janes looking forward to racing again, but the Brea 8k has one of the best post "Food Court" with 17 vendors bringing in some good post race fuel.
For more information about the race, click here.
Click here for last year's results.