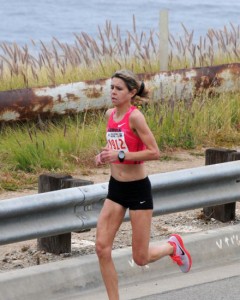 Emily Mitchell-Kreutner was part of a co-ed winning team, Team Optimissport, this past Sunday at the prestigious Kaiser Permanente Los Angeles Triathlon. Emily ran the 10k and final portion leg of the tri in a time of 37:19. Her teammates were Alan Morelli and Peter Smith. Alan did the first leg – the .9 mile swim – in a time of 24:10 and Peter biked the second leg of the tri in a time of 57:08 over 24 miles.
The course started as a ocean swim at Venice Beach, then the bike ride went though Venice, the Fairfax District and into Downtown LA. The 10k course was run through Downtown and ended at L.A. Live.
For complete results, click here.