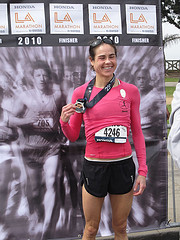 Erika Aklufi ran in a very elite group of women yesterday in the Dodge Rock 'n' Roll half marathon in downtown Los Angeles running a respectable fifth place in a time of 1:20.39. Erika's competitors included the winner, Olympic medalist and American Record holder Deena Kastor who ran 1:11.48, Olympian Linda Somers-Smith who at the age of 50 defies her age by placing second in a time of 1:15.17 and sub-2:40 marathoner, Cheryl Smith who ran 1:17.12 for third place.
The course was a rolling-flatish course that started and finished at the Staple Center.
For complete results, click here.