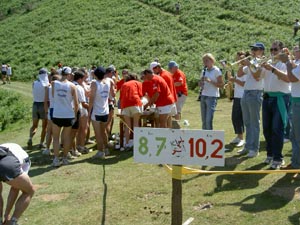 Every summer, Tania and her daughter head out to Europe to spend time with family and friends for at least a month at a time. This year, Tania decided to run in a race in the French town she was staying in; a race that she was not prepared to run. Tania, who speaks French, as well as German, is not as fluent as she'd like to be at times when it comes to reading race flyers, so her idea of what this race was going to be was not reality. But she should have gotten an idea when the race required that she get a doctor's note to sign of on her health before she ran in the night race. Or the fact that all the other participants had lamps on their heads at the start of the race. "My impression was that it was going to be a couple of loops around the town." Tania says, "I was completely wrong. I ran up in the mountains straight up a cliff on trails meant for goats and cows. It was the most scary thing I have ever done and the toughest run I have ever run. It was in complete darkness on the side of a mountain! I was so happy to finish the race. It was totally scary and cool at the same time. It took me about 45 minutes to run about 4 miles! I wasn't really racing I was surviving!"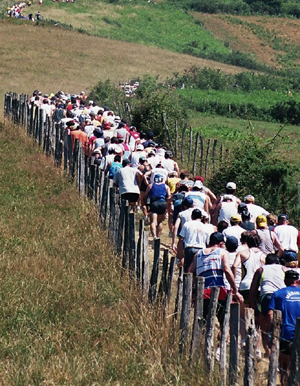 After the race, the runners had to hike two miles by foot to the village where there was a huge and amazing party that was going on for the participants. There was free beer and food for all participants that made it. Tania got home at 3 a.m. after the party and race. Fun times!
For more information about the race as well as results and photos (if you can read French!), click here.