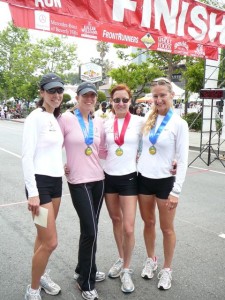 The Janes are a competitive women's running team based in Santa Monica, California. The team was formed in August 2002. Through grassroots efforts the team has grown from seven members to 15 and is now a member of the USA Track & Field-certified "Elite Athlete Development Club." The Janes are two time USA Cross Country Club Champions (2004 & 2005). Our mission is to provide a supportive training and racing environment for women so that they can reach their goals athletically and professionally while promoting a healthy spiritual well-being.
Coaches
The Janes are fortunate to have two excellent coaches that push each athlete to reach her potential. Kirsten O'Hara-Leetch, a Cal Berkeley Hall of Famer, has been coaching and training the Janes for three years. She comes with 30 years of personal running and racing experience and has been coaching at Redondo High School for five years. She inspires the team through leading by example. Her determination and toughness are the two qualities most admired by her athletes.

Tania Fischer

has been the coach of the Janes since the founding of the club. She has led the Janes to two National titles, while training side by side with her athletes. She coaches and teaches at Santa Monica High School where she is the head cross country and track coach for both boys and girls. She has been coaching there for over 16 years and has won 12 league titles. Her 37 years of running and competing at the highest level, give the Janes the direction to be an elite running team.
Membership Information
The Janes Elite Racing Team is based in Santa Monica. The Janes are competitive athletes with strong running backgrounds and racing experience. Currently, team members are competing on three fronts: road races from 5K to the marathon, track races from 800M to 10,000M, and fall team cross country. All interested parties are encouraged to review our individual and team histories. If you feel that you would be able to commit yourself to training and racing with the team, have run a qualifying mark and would contribute on a competitive basis, please fill out our initial screening application. The Janes will review your information and get back to you as soon as possible.